Rob Keller
Founder | Napa Valley Bee Co.
While earning his MFA at UC Davis, an interest in entomology emerged when Rob incorporated bees into his art practice and since then, Apis mellifera has been his main focus. Rolling full circle, he eventually found himself back at UCD, graduating from their Master Beekeeping Program and has beecome an inspirational leader and educator of regenerative beekeeping in Northern California. His love for art and attention to aesthetics remain strong, and it is clearly seen in the detail of his custom made hives and his engaging photo images. To grow new stewards of the profession, Rob teaches beekeeping at Napa Valley Adult School as well as adolescents at St. Helena Montessori. His strength of character and conviction provides all who are in his presence with numerous ah ha moments and much laughter. He is available for speaking engagements, teaching seminars and sharing a pint after a day of hive dives. Rob lives in downtown Napa with his 14 year old son Davis, where he is surrounded by music, creativity and a great community of friends who share in his passion for life and a good buzz.
Emily Bondor
Associate Beekeeper
Emily Bondor graduated with a Bachelor's degree in Psychology from The University of Massachusetts Amherst in 2011. Since then, her work has been in the non-profit, educational and environmental sectors with a focus on outdoor education and organic agriculture. Emily began keeping bees on Maui while pursuing a permaculture design internship. She soon found herself diving head-first into the technical and scientific realm of breeding queen bees for the Maui Queen Bee Company. Emily moved back to California in 2014 to begin work as an Associate Apiculturalist for the Napa Valley Bee Company. In 2015 she started her own business, The Santa Cruz Bee Company. Through SCBC, Emily consults and mentors beginner beekeepers, manages apiaries throughout Santa Cruz county, and teaches beekeeping classes through the Cabrillo College Extension.  Learn more by visiting http://scbee.co/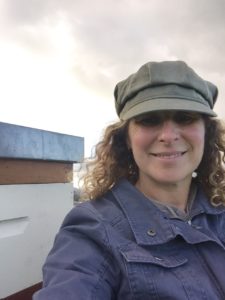 Marla Bird
Associate Beekeeper
Marla graduated from college some 25 odd years ago with a degree in nothing to do with her current life ambitions. After years in the music business and decade at a 'school of life' on a commune, she and her husband built a biodynamic farmstead in the Ozark Mtns. In 2008, the need to find ways of generating income from their land led her husband to beekeeping and she eventually got on board. Though influenced strongly by Steiner, they were primarily focused on generating honey and dividing hives to build bigger apiaries without clear consideration of genetics. Fortunately, she met and began working with the NVBC team. Without hesitation (ok, maybe a little) a 180 to treatment free, foundationless, vertical, sustainable management was made, and now she soapbox spiels an agenda of bee centered philosophy to anyone on the fence. Her 'jobs' as a farmer, herbalist, yogi, energetic and whole health worker is her lifestyle with intent to educate, provide clean food and good medicine for all.
and uh… she is allergic to bees.